I think it's about time I shared with you good people a project that I have been working on for some months on and off
This all started about 3 years ago when I found my OSS to be none working, the motor was making a loud clicking noise and panels not moving.
On removal and striping down the OSS I found a number of issues, broadly summarised into a defective motor mount and broken cable to truck connections
The 'cable to truck' connections where replaced by homemade fabricated part made from brass sheet and have proven to work very well and are still perfectly working some 3 years later.
The motor mount, well where to start on this part !!! firstly it is rather elegant design, but so so poorly executed.
The fact that it is made from die cast aluminium, which being honest is suitable for making toy cars and not a lot else, then its made in two pieces, that if allowed to separate is a major disaster for the motor to cable mesh, then to cap it all the two halves are riveted together using pins moulded on one side of the mount out of the die cast aluminium and then press formed into rivet heads
To sum up the motor mount in a few words its a piece of junk
It can be made better by drilling out the rivets and replacing with something more substantial, but long terms the die cast aluminium is just far to soft
However it is quite a difficult part to remanufacture as it was designed around the die casting process, this alone was not going to stop me designing a replacement part that would be manufactured from much stronger aluminium plate and be CNC machined for accuracy.
My design was to flip the original design around, I still needed to make it in two halves, but my design is a top and bottom as against a left and right handed parts.
The top and bottom are fastened together using 5 counter sunk screw, plus the two motor attaching screws. What this means is the two halves once bolted togther are absolutely secure and will act as if made from a solid aluminium block. Being honest I may well have over engineered the mount, but better that way than under engineered.
It's easy to assemble the two halves onto the cable tubes as everything is assembled into the bottom half and aligned, then the top half is fitted over the top of the bottom half/cable tubes and secured with the five counter sink headed screws which ensure perfect alignment of the two halves.
This motor mount / tube assembly is then fitted to the front glass panel of the OSS, threading the cables into the guide tubes, finally fit the motor to the motor mount and secure with the two M5 torx screws and a third M5 screw secures the lug on the motor mount to the underside of the OSS glass panel, all as per the original motor mount.
Everything fits as per the original mount using the same fastenings, no modifications are needed to either the tubes or the OSS glass panel
The operation of the motor is now so positive to the cables, I have tested the motor to pull a 50kg force, the motor stalls before the 50kg is reached but there is no hint of the cables slipping on the motor pinion only the motor stalling. A similar test on the original motor mount was initiating cable slip are around 15kg to18kg force
I am delighted with the way the mount as turned out
I used a probe on my CNC milling machine to measure the critical dimensions of the original motor mount AKA a cheap Co-Ordinate Measuring Machine
This allowed an accurate CAD (computer aided design) model to be produced which was then put through a CAM (computer aided manufacture) program to generate a CNC Gcode file, or more accurately a set of Gcode files for the inside and outside of the top and bottom halves. In total there were actually around 13,000 lines of Gcode to machine the top and bottom halves
Below are some pictures of the mount
Finished mount assembled together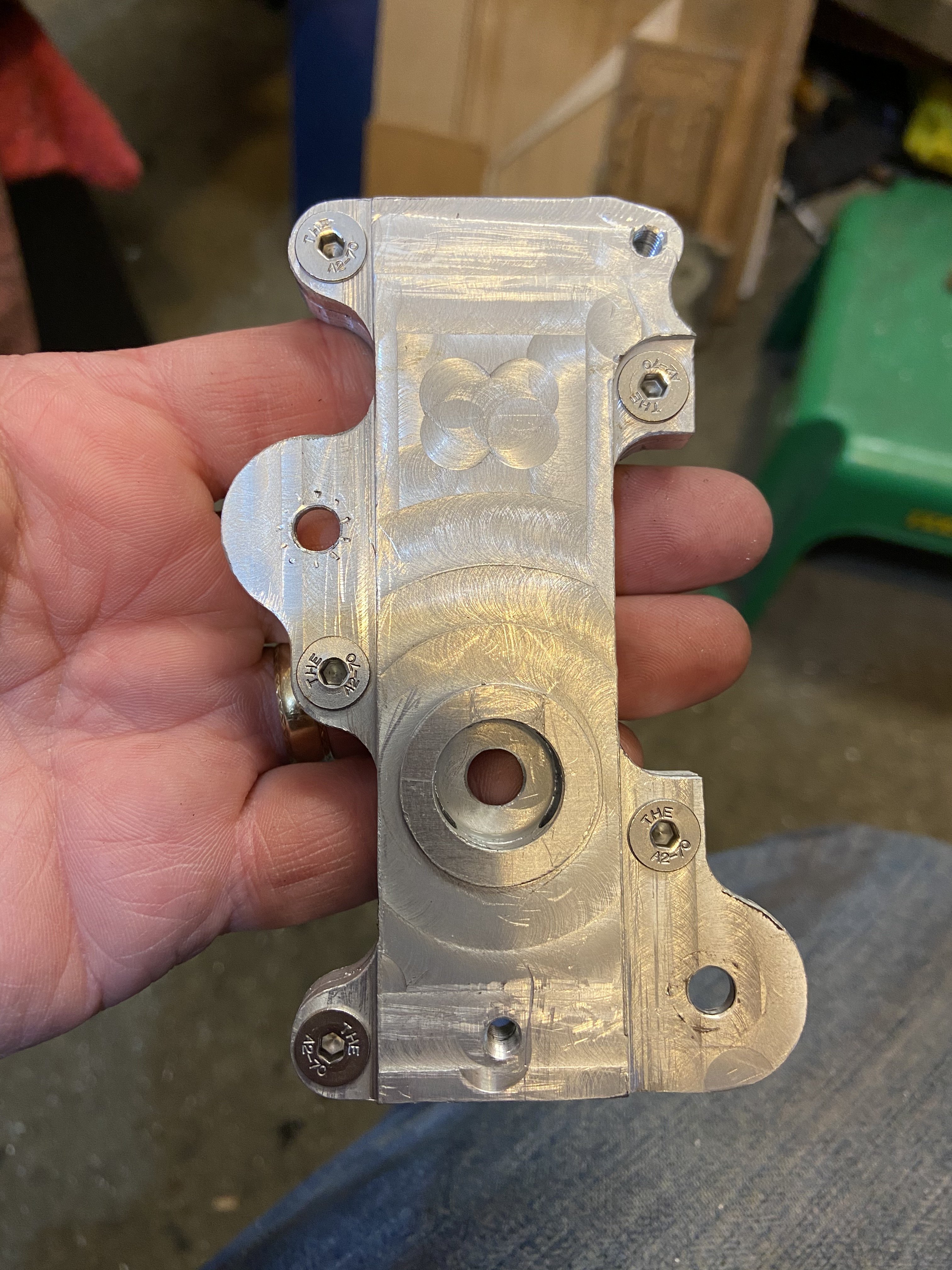 Top half of mount
Both top and bottom halves finished mached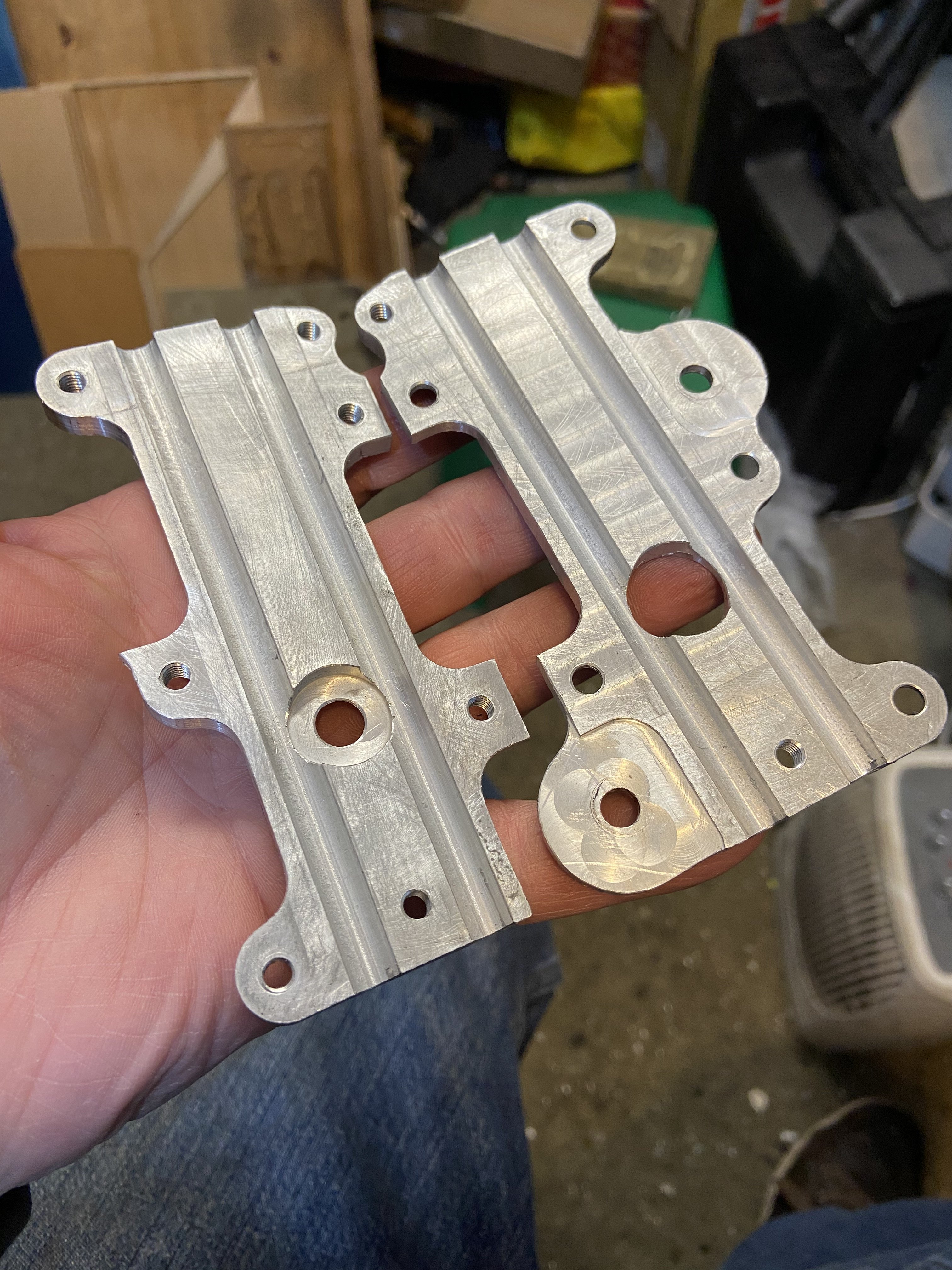 Underside view of assembled mount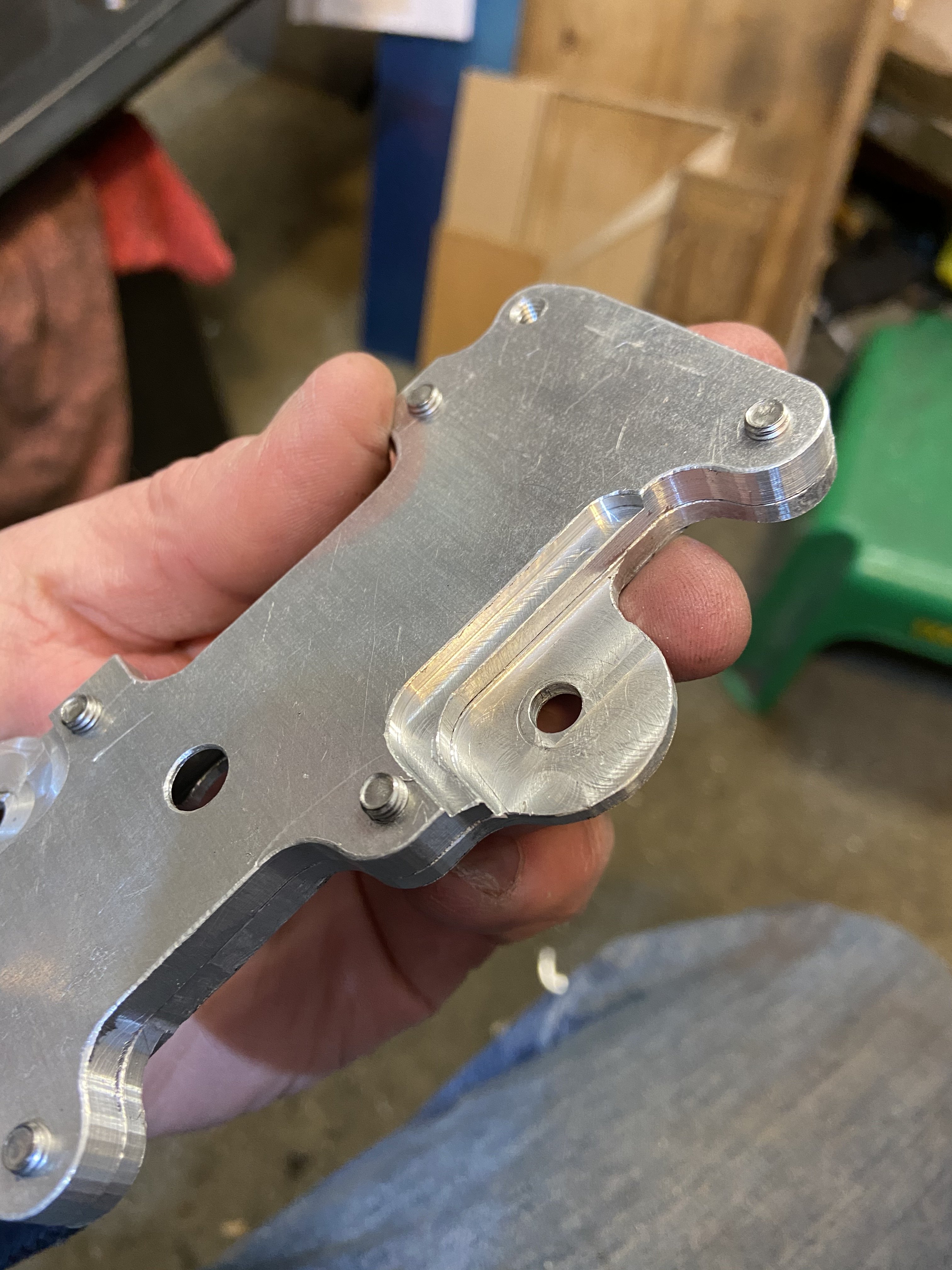 Underside view of assembled mount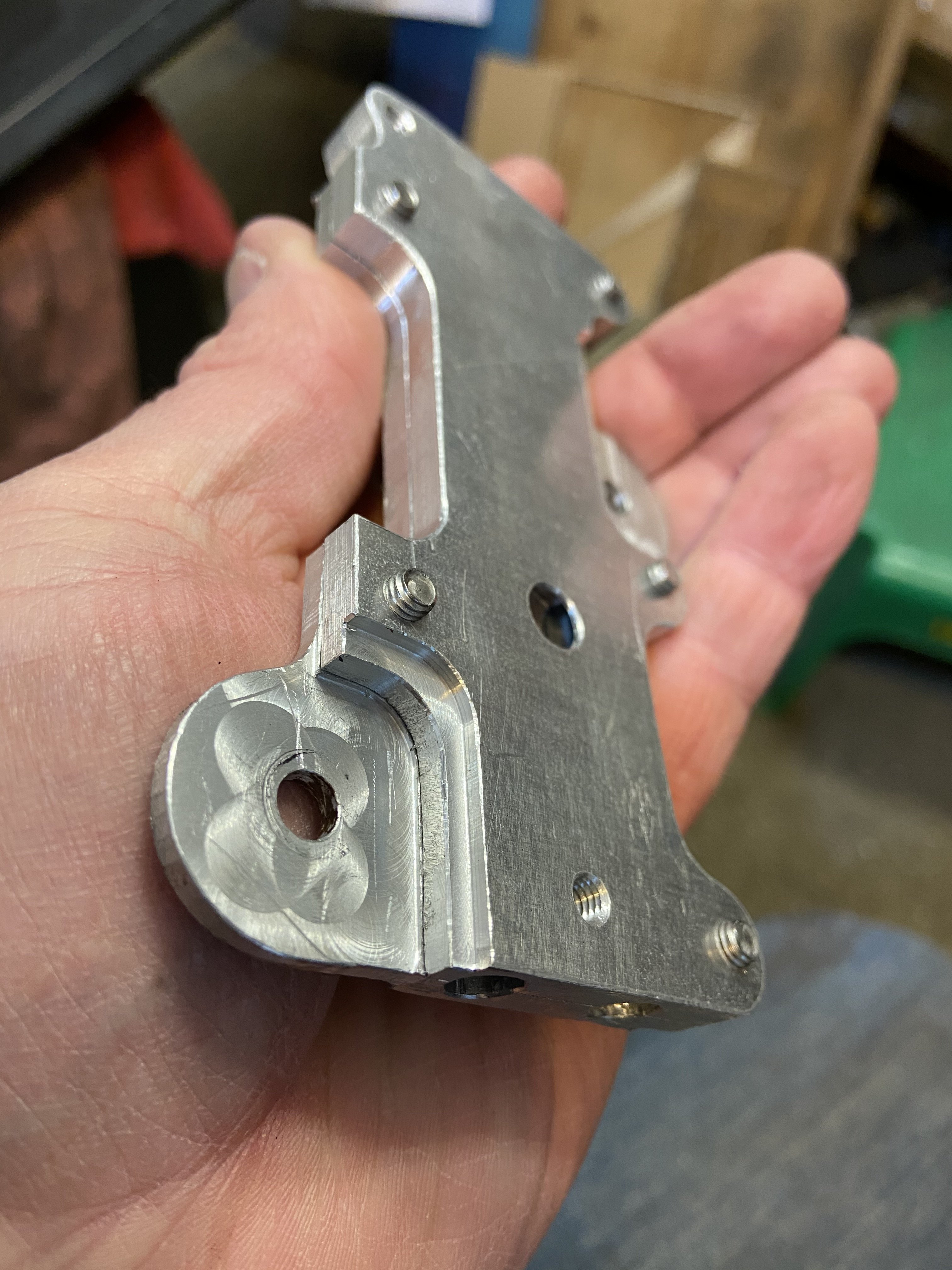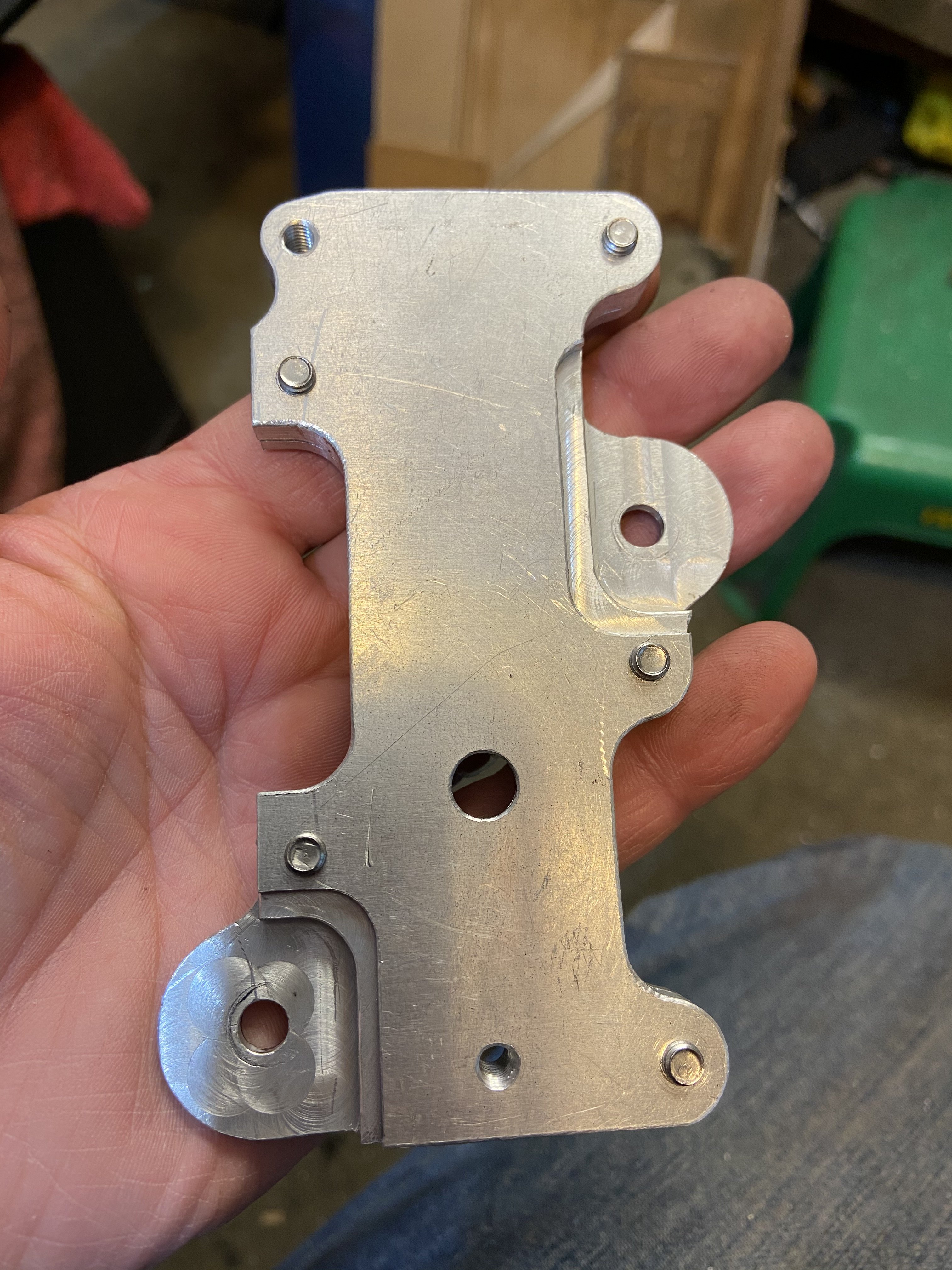 Top view of assembled mount screwed together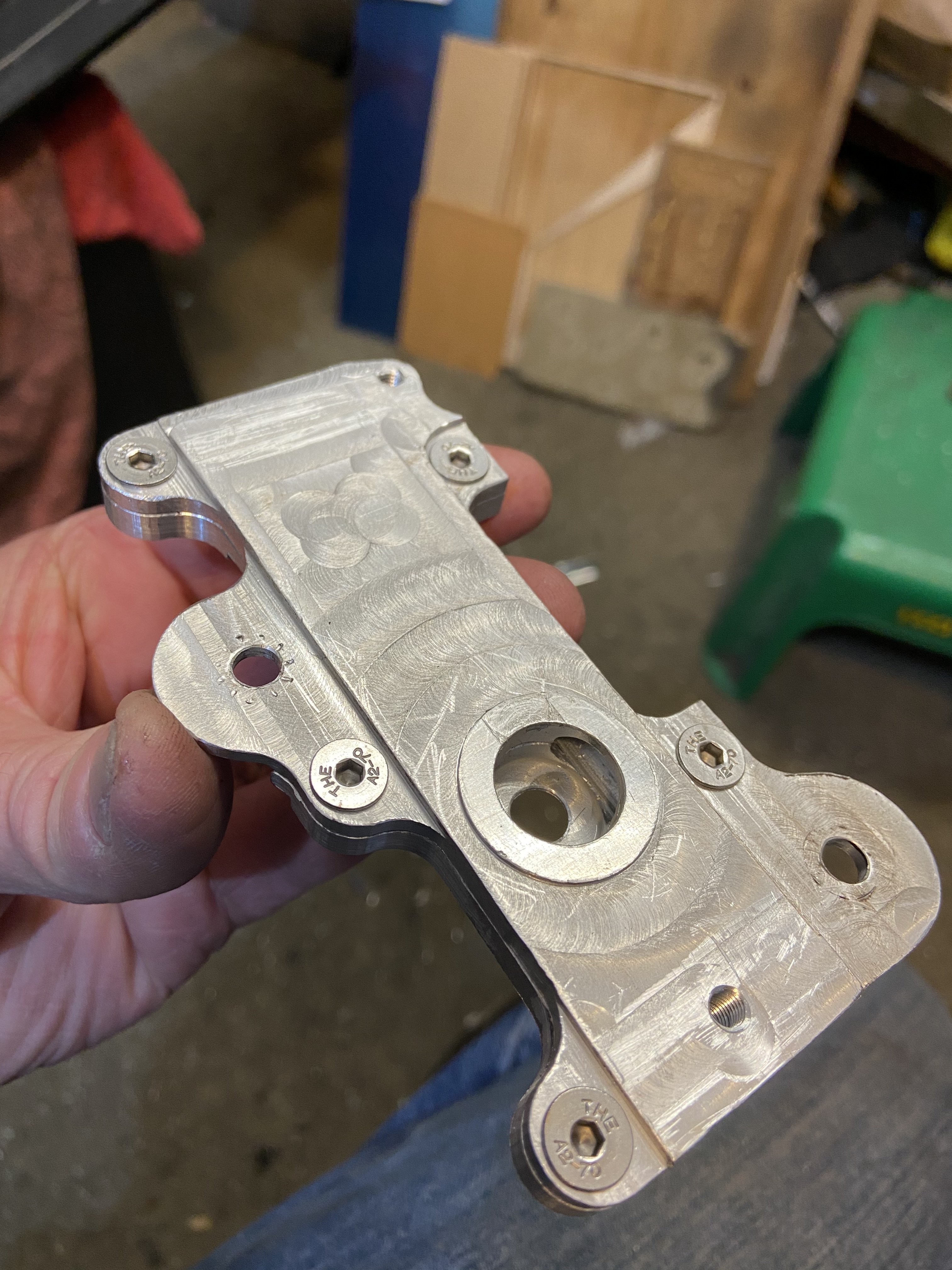 End view of mount showing where the cable guide tubes fit - the two halves of the 7mm Diameter hole are machined seperately using a ball nose end mill, the difficult bit is getting the top and bottom halves to allign perfectly on the 7mm holes and the 17mm bore for the motor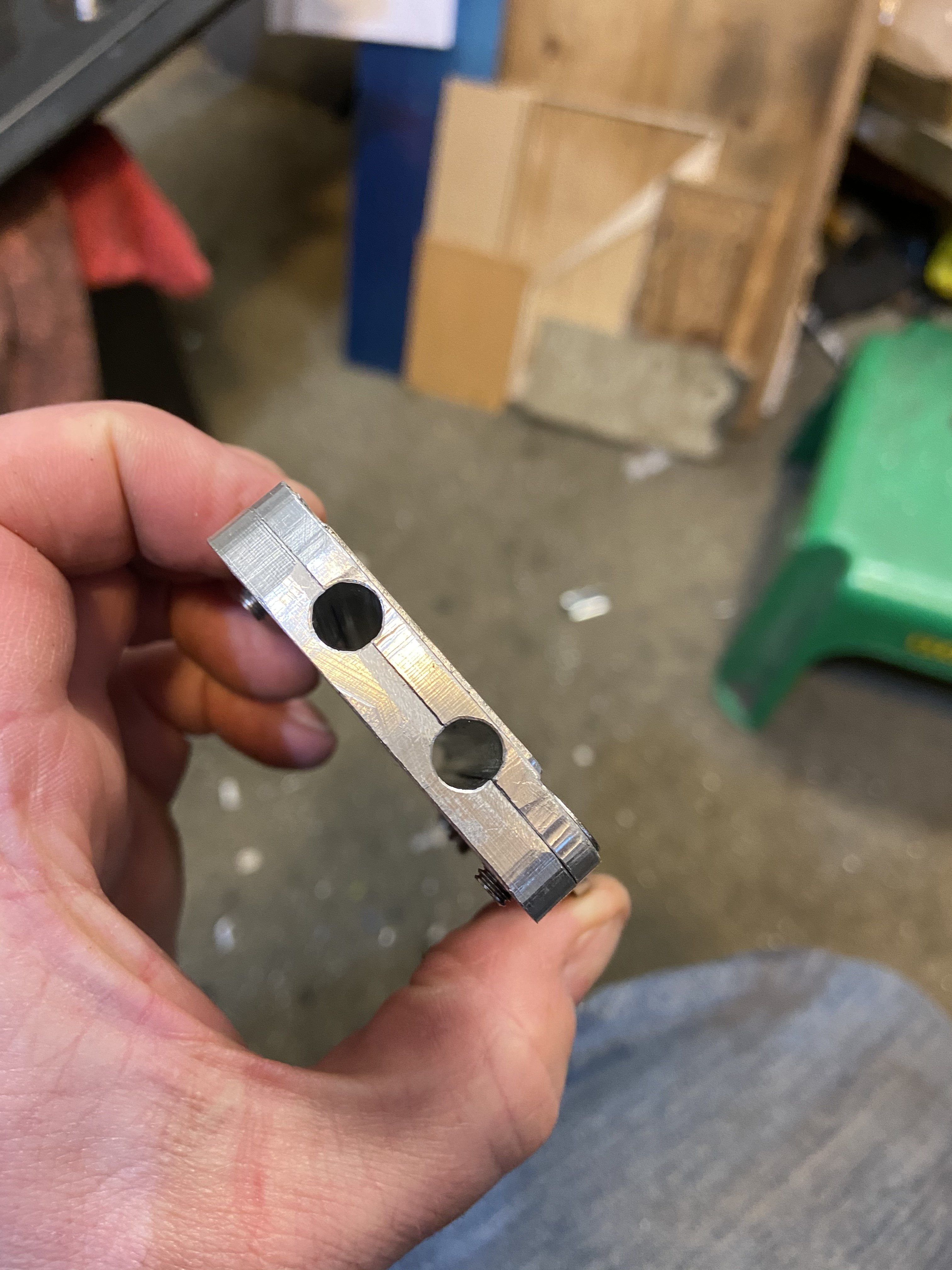 More pictures on the next post
Last edited: