So after seeking a bit of advice from the forum on this lovely Colour Storm that was for sale locally to me, I decided to bide my time a little till the price dropped close enough to my intended budget that I felt a deal could be reached. Last weekend a deal was done and I drove him home
Here is Heu
Spec:
74k
Full service history
1 previous owner from new
Opensky (currently broken sky)
Rear PDC
Passenger airbag deactivation switch in glove box
Rear bench
CD Changer in boot
42L fuel tank (a pleasant surprise at the fuel station!)
Heated mirrors (swapped from Bert)
Rear cup holder (swapped from Bert)
Audi A2 mats
Audi rubber front mats
All original glass/panels
This for some time has been my dream spec A2 that was purchasable.
I'm going to do a proper set of pictures as soon as I have enough time but he's very very tidy, just a couple of minor imperfections I want to address:
Front passenger door needs a Depronman check strap asap! (
Done
)
1 rear arch needs touching up (
Done
)
Under handbrake storage tray to fit
Scratch near the A2 badge (
Done
)
Front wheels need a refurbish (might as well do all 4) (
Done
)
Wiper arm rivets are tired, will replace the arm (
Done, brand new arm from Crew Audi
)
OSS requires fixing (
Done, complete refurbishment from @Kleynie & Adam
)
Headlining is sagging a little at the rear
Water drainage from rear spoiler has left some marks to one side of the lower glass (might consult a detailer about what would be best for that, also some tide marks just under the spoiler and the underside of the spoiler) (
Done
)
Private plate (coming soon)
Mud flaps (
Done
)
Cruise control/Remap/Electric bolster sports front seats & some VCDS changes from Timmus when a suitable visit date is arranged (
Done, minus the seats
)
New number plates required so I can fit my A2OC plate holders! (
Done
)
I couldn't help but purchase one of these: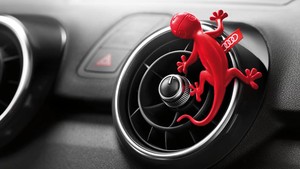 I would really like to go for an OEM with this car and just some subtle improvements, so for the seats I already have a selection with the red middle panel and I'll be having the sports seats re-trimmed to match the standard Misano CS front seats asap (if anyone wants to recommend somewhere I'm all ears)
A bit further down the line I'll be looking at a steering wheel re-trim and adding the media control airbag panel and a few other factory options along with rear electric windows if a full setup ever pops up for sale, but it's all secondary to the list above.
So as it stands I currently own 3 A2's (never thought I'd say that when I first bought
Bert
!) so I will be selling the other two very soon
I look forward to attending a social event with the club in the near future (the next few don't work out for me unfortunately) Thanks for reading
Last edited: